Top Agile Project Tools
With new agile project management tools entering the market all the time, it can be hard to identify the real game-changers for development teams. Which are best for sticking to agile methodology?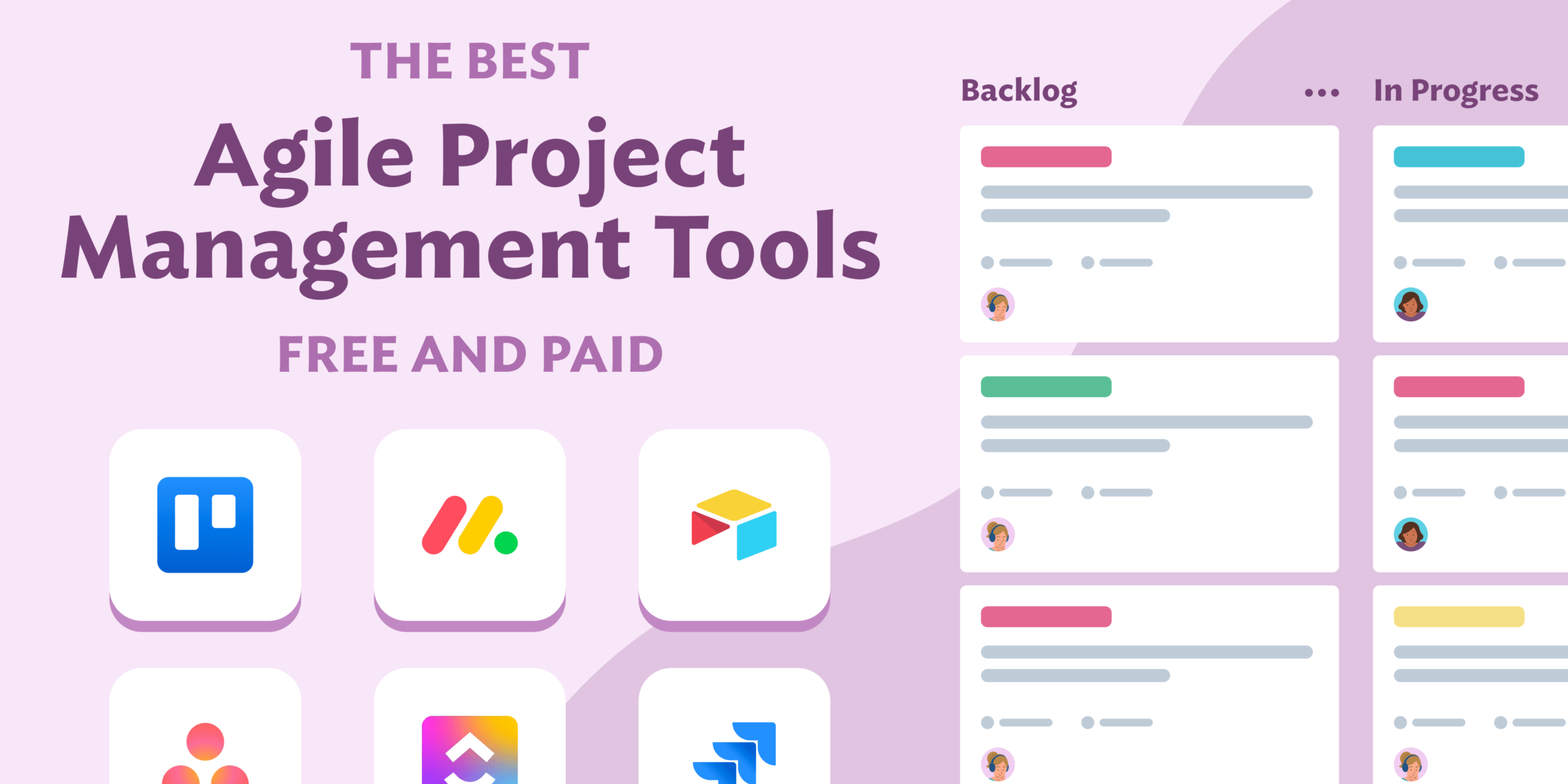 In today's fast-paced business environment, companies are constantly seeking ways to be more agile and responsive to changing customer needs. Leveraging the right agile project management tools can help development teams improve collaboration, enhance transparency, and deliver value faster.
But with new agile tools entering the market all the time, how do you know which solutions are the real deal?
This article reveals the top 10 agile tools that enable teams to iterate quickly, manage complex projects, and crush their product backlogs—all while sticking to agile methodology.
We'll break down the standout features and benefits of each tool, from stalwarts like Jira to up-and-comers like ClickUp.
Whether you're new to agile or a seasoned scrum master, you'll find tools here to boost your team's agility and efficiency. Keep reading to transform the way your team collaborates, communicates, and delivers outstanding products.
With the right agile technology, you can bring game-changing innovation, productivity, and adaptability to your organization.
Basecamp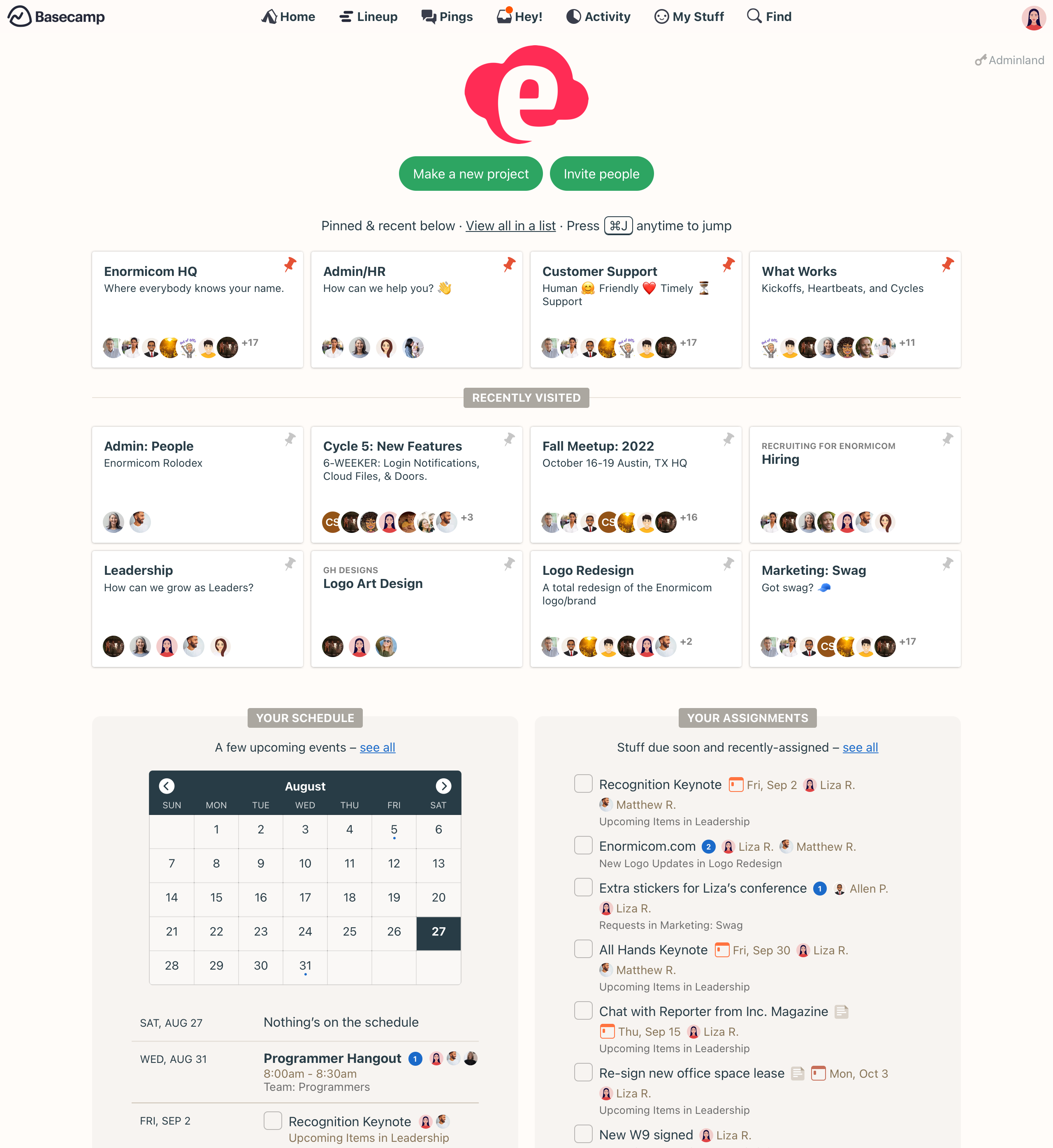 Basecamp is a leading project management and team communication platform that provides robust support for agile methodologies. Here are some of the key agile features offered by Basecamp:
Customizable boards - Basecamp allows teams to create highly customizable boards that can be tailored to specific agile workflows like Kanban or Scrum. Teams can add custom columns, card types, automation rules and more.
Backlogs - Product and sprint backlogs help teams stay organized and maintain a prioritized view of work. Backlogs can be created at the project or board level.
Task management - User stories, bugs, and other work items can be tracked as tasks in Basecamp with assignees, due dates, statuses and file attachments.
Real-time communication - @mentions, project messages boards, and comment threads keep teams connected and working collaboratively as work progresses.
Reporting - Basecamp provides burndown charts, velocity reporting, and project overviews to help teams monitor agile performance metrics.
Mobile apps - Basecamp's mobile apps enable team members to stay productive from anywhere with access to projects, boards, backlogs, tasks and more.
With its flexible boards, backlogs, tasks, and real-time communication capabilities, Basecamp empowers self-organizing agile teams to visualize work, facilitate collaboration, and deliver value iteratively. The wide-ranging features make Basecamp an excellent choice for agile project management.
Notion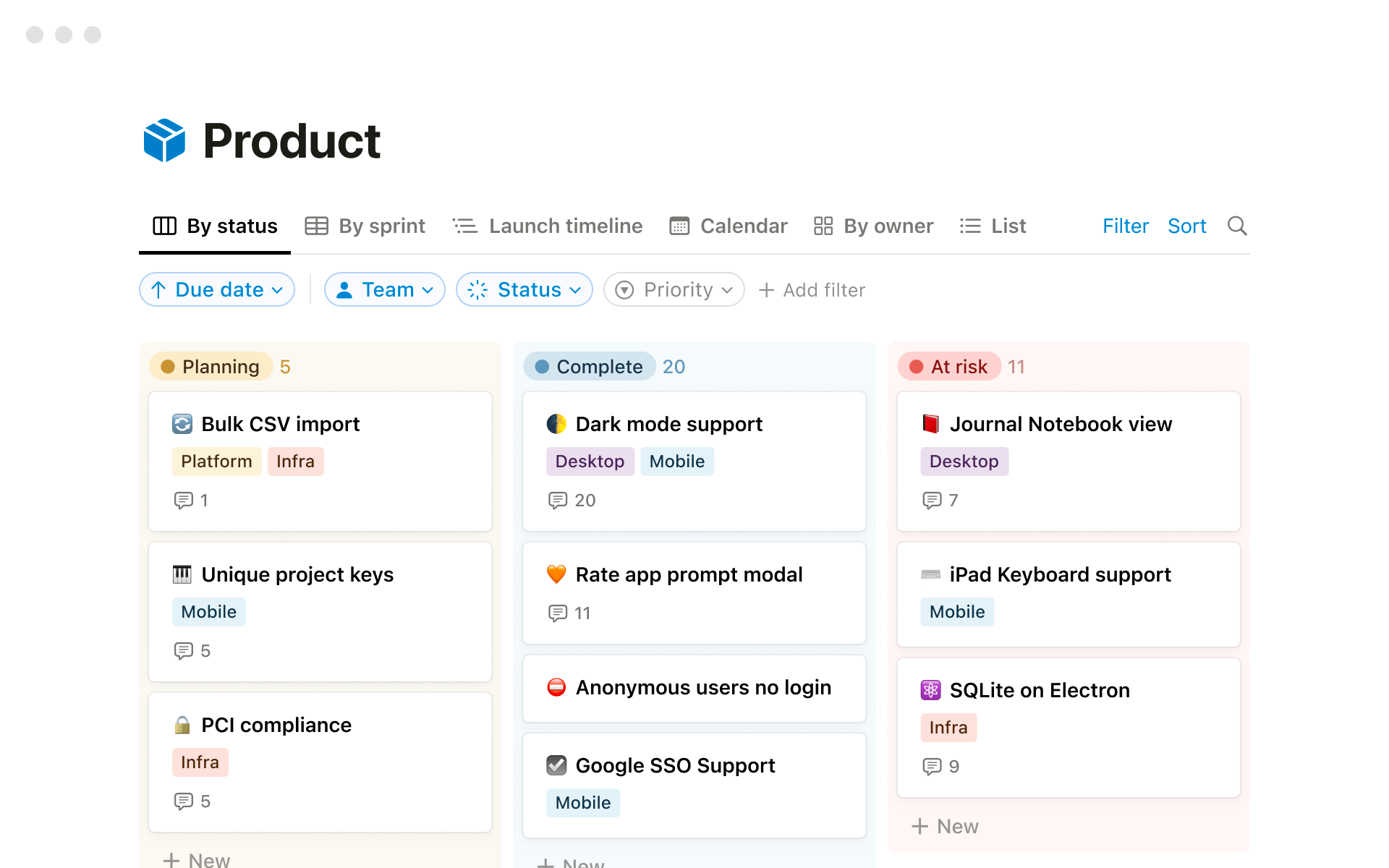 Notion is a collaborative workspace and document creation platform that can be used to help agile teams organize their work and collaborate. Some of the key features of Notion for agile teams include:
Flexible pages and databases - Notion allows users to create a variety of structured pages and databases to track agile projects, user stories, tasks, sprints and more. Database views and linked pages enable teams to visualize and link information.
Real-time collaboration - Multiple team members can work together on pages and databases in Notion at the same time. Changes sync instantly so everyone has real-time visibility.
Customizable workflows - Teams can create customized templates and views in Notion tailored to their specific agile process and way of working. For example, kanban boards, roadmaps, retrospectives and more.
Integrations - Notion integrates with many other agile tools like Jira, GitHub, Slack and more. This allows teams to centralize information in Notion while connecting to other platforms.
Accessibility - Notion works well on desktop and mobile, making it easy for distributed teams to stay in sync. Offline access enables team members to continue working when internet connectivity is limited.
Notion is a versatile workspace that agile teams can mold to their process to collaborate on user stories, plan sprints, track progress and share documents in one central location. The flexible structure, real-time collaboration features, and integrations make Notion a popular choice as an agile enabler.
Atlassian Jira
JIRA is a widely used agile project management tool developed by Atlassian. It provides robust support for agile methodologies like Scrum and Kanban. Some of JIRA's key features for agile teams include:
Customizable workflows - JIRA allows teams to create customized workflows and boards that match their agile process, such as workflows for user stories, bug tracking, sprints and releases.
Backlogs - Teams can maintain prioritized product and sprint backlogs in JIRA with capabilities like estimation and hierarchy. The backlogs provide visibility into incoming work.
Kanban boards - JIRA has built-in Kanban boards for teams to visualize work status and work in progress limits. Cards on the boards represent user stories, bugs, tasks and more.
Reporting and metrics - JIRA provides a variety of reports and dashboards to help teams monitor sprint progress, velocity, burndown and other metrics essential for agile.
Integrations - JIRA seamlessly integrates with tools like Confluence, Bitbucket, and Slack. This allows agile teams to connect JIRA with other platforms.
Configurable user permissions - User permissions can be customized to give certain team members access to specific projects, boards, and more within JIRA.
JIRA is designed from the ground up to enable agile processes through its flexible workflows, backlogs, boards, metrics, and integrations. The robust capabilities make JIRA a top choice for agile teams of all sizes.
Clickup
ClickUp is an innovative all-in-one project management platform built to support agile workflows. Here are some of the key features that make ClickUp a powerful tool for agile teams:
Customizable workflows - ClickUp makes it easy to customize statuses, columns, automation rules and more to match any agile process like Scrum or Kanban. Teams can manage backlogs, sprints, tasks and more.
Integrated boards - ClickUp boards provide visual management and collaboration for agile teams. You can view user stories and tasks on a Kanban board and drag and drop to update status.
Robust views - ClickUp offers multiple views like grid, calendar, timeline and more so teams can visualize their work the way that fits their needs.
Real-time communication - Commenting, assigning tasks, and @mentioning team members facilitates continuous collaboration and visibility.
Time tracking - Team members can use ClickUp's time tracking to estimate and log hours on tasks to help forecast velocity.
Powerful search - ClickUp's search makes it easy to quickly find tasks, docs, comments and more across projects.
Portfolio management - ClickUp rolls up reporting across multiple projects to give agile teams high-level visibility and insights.
ClickUp combines the key tools agile teams need in one intuitive platform. The flexibility, views, and real-time communication streamline agile workflows and enable teams to continuously improve.
Trello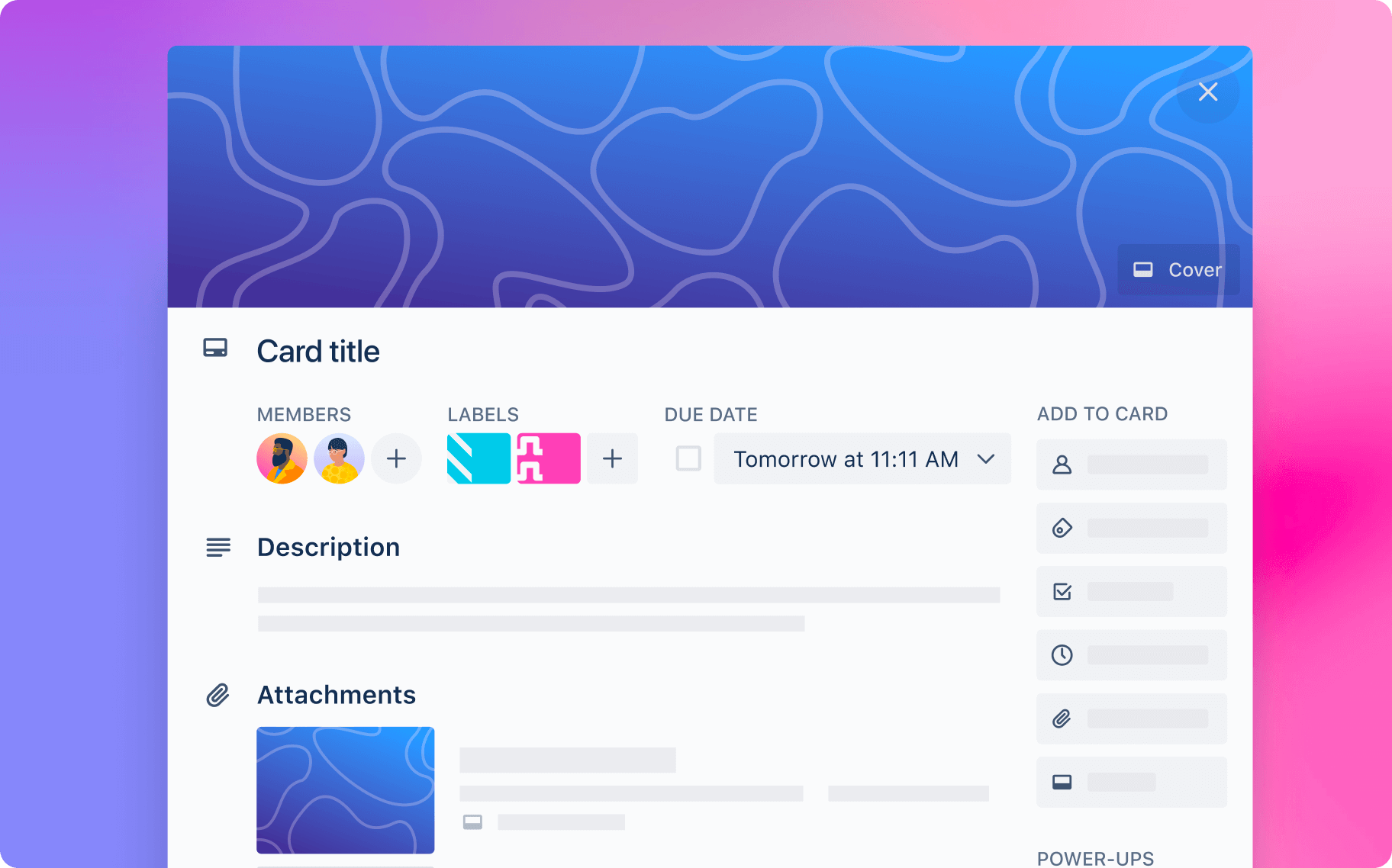 Trello is a popular project management tool that leverages Kanban-style boards to help teams collaborate and manage work visually. Key features that make Trello a useful agile tool include:
Custom boards - Trello allows teams to create multiple boards per project, customized with columns, swimlanes, and WIP limits to match any workflow.
Backlogs - Cards on boards can represent backlog items, user stories, tasks, bugs etc. The bird's eye board view provides an agile backlog.
Card management - Trello cards allow teams to manage and track granular work items with assignees, labels, checklists, attachments, and more.
Flexible views - Boards, calendars, timeline views, and dashboards allow teams to visualize work from different angles.
Integrations - Trello integrates with GitHub, Jira, Slack and many other platforms, enabling seamless connectivity.
Automation - Teams can automate repetitive tasks like moving cards, assigning members, and more for process efficiency.
Analytics - Trello provides visibility into team metrics like card aging, top contributors, card distribution, and more.
With its simple yet flexible Kanban-style boards, Trello gives agile teams an intuitive, visual way to manage backlogs, tasks, sprints, and continuous delivery cycles. It scales from small teams to large enterprises.